As a strong proponent of mixing in real-time advertising, one has to analyze the many different options to choose from.  For a majority of businesses, Facebook ads can be an extremely affordable and effective way to drive additional traffic and begin seeing results immediately.  The traffic growth of Facebook continues to increase exponentially and optimizing this marketing channel takes a little bit of art. The most immediate challenge, is determining effective ways to engage the suers to click on the ads you are creating. Views are great, but getting quality ad targeted users to click on your ads is the holy grail.  With that in mind, here are some simple methods and tricks that I use daily for my social media marketing clients to harnessing the power of Facebook ads.
1. TARGETING
When creating an ad in Facebook, you want to  dramatically narrow down the list of people you are attempting to show the ad to ensure each click you pay for is being done by a potential customer that is going to "like" or shop with you.  This targeting is both powerful and extremely important in setting up properly within Facebook, allowing you to not only improve the Click Thru Rate (fancy buzzword: CTR)  but also will reduce the amount you end up payin.   Facebook wants to provide your ad space on their platform, but wants to ensure it is relevant and useful to its users. So they are also looking at your CTR, to determine the price you will end up paying per click. So by optimizing the audience and relevance of your ad, you win in two ways. You only show ads to those who want to see it and your potential CPC (Cost Per Click) declines over time as your ad appears more relevant to Facebook.
When creating your ad, ensure that you carefully analyze your current target market and overlay that with exact details within the Facebook targeting platform.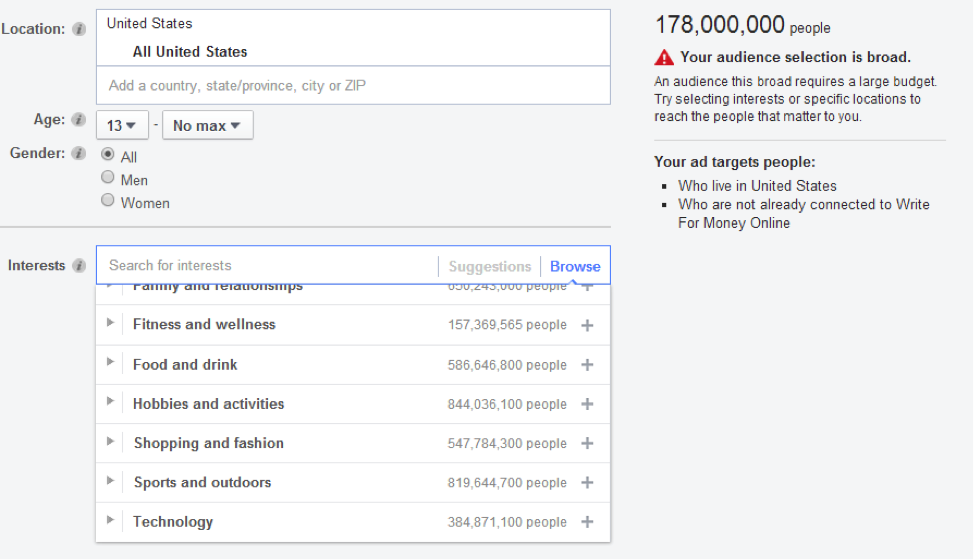 As you can see in this image, based on the different option or drop down menu you select, the total number of people in your audience will change.  For example you could elect to target only women, age 21-35, from North America, who have 'fitness' listed as one of their interests. This simple filtering will  lower the total potential audience who can see your ad however you slowly are eliminating a majority that may not click on your ad to begin with. Here is a list of the targeting filters Facebook currently has to allow you to dramatically filter and target your ad to the right potential customer:
Here are the targeting filters available in Facebook Ads.
Gender: Here you can restrict your ads to a male audience, female audience, or both.
Age: You can choose one or more age ranges of people to target with your ad: 13–17, 18–24, 25–34, 35–44, 45–54, 55–64, and 65–100. If users  have not identified their age in Facebook, they won't see your ad if you use an age-range filter.
Birthday: Happy Birthday wishes and display your ad to people only on their birthday.
Location: Set specific countries of origin of the user, as eligible to view your ad. In the US for example, you can further target  you can specify states and in some cases, a specific city where your ad is to be shown. These are great for local businesses, for example.by specifying
Likes and Interests: Provide keywords that represent a user's potential Likes or Interests that users enter into their Facebook Profile.
Interested In: Target people who state they are "Interested in" Men or Women, or you can pick All.
Relationship: Target a user based on their defined Relationship status in their Profile. Options include Single, In a Relationship, Engaged, or Married. This filter can be helpful, for example, to target Engaged people with wedding products and offers.
Language: Target a user based on their spoken Language(s) set in a Profile.
Education: Target a user based on the Education level in a Profile. Some options include In High School, In College, or College Grad.
Workplaces: Target a user based on the company listed as their Employer. For the user to see your ad, the spelling of the Employer name must the spelling that you provide.
Connections: Target users already connected to a specific Facebook Page, Event, Group, or application.
Friends of Connections: Target Facebook users who are not only connected to your Facebook business Page but also have at least one Friend connected to your business Page.
2. USE FACES IN YOUR ADS
Hmm Facebook and use faces. People are naturally inclined to look at faces, and thats what Facebook is about right ? So use that to your advantage.  Facebook ads have an option to add an image, so ensure you test ads including a person in that image.  It could be an image of a pretty girl, or an athlete posing for  the camera, either way you can use images to provide a great effect.  Ensure the image is relevant by carefully selecting the type of person you have in your image based on the item or service you are promoting.  Make sure to consider age, race, attractiveness, sex and anything else that might have an impact on your audience and have that aligned with the targeting filters you created from step 1. But most importantly – experiment Experiment not only with different people but also with the person in the image looking in different directions.  At johnayers.com, we have found that our clients get dramatically different CTR's based on something as simple as the direction their image is facing.

3. ASK QUESTIONS IN YOUR AD
In your ad copy, consider having the main focus area be a question.  People are more inclined to read and respond to ads that ask questions, and therefore it will be much more likely to get their attention. Whenever possible, try to identify the 'pain points' of your target audience, and attempt to ask questions specifically about that.
4. TEST. ANALYZE. REPEAT.
Always Be Testing (ABT). This is huge. There is no one formula but by repeated testing and optimization you will find sweet spots. However when you find them, get ready to adjust or reinvent yourself. As ad boredom set in, your once performing super ad, will start to drift away to oblivion. Never be complacent but be ready for the next big when, as you again- Test. Analyze. and Repeat.
John Ayers is one of the contributing writers at John Ayers Consulting and can be seen on Google +